You may be asking yourself, "what is a Jam?"
Purpose
By itself, a Design Jam has two functions:
1.    Collaborative Rapid Idea Generation
2.    Participant Empowerment
A Design Jam is an idea factory. It's a fun, fast, creative brainstorming session intended to create a range of diverse visions that address an issue. In the design, architecture and urban planning fields, Jams are employed as one of the many stages of a larger planning, strategy and design process undertaken by the lead design organisation and stakeholders involved in a project. By changing the way we think and interact, we change the way we behave and respond to complex problems, therefore creating the social, urban and environmental transformation we seek.
End Products
Innovative Ideas, Visuals, Maps, Diagrams, Lists
Description
At the core of the Jam are four technical stages:
1.    Briefing / Presentation of challenge, expectations, examples
2.    Pitches / Participants get 'on stage' and pitch starter ideas to audience
3.    Breakout / Participants split into smaller teams, share and draw ideas
4.    Showdown / Each team presents their ideas back to the main group
While this four-step method forms the foundation, all Jam frameworks are adaptive, multiple other stages can be added added or removed depending on the complexity of the task, the time available, the number of facilitators and the number and type of participants.
Results
Participants leave the Jam-space feeling hopeful and empowered that a situation can change because they have the tools and the team to make their world different. They were listened to (+ didn't think their idea was crazy); they gain new friends, allies, partners (and sometimes a team); they feel grounded, ready-for-action, capable; they feel connected and engaged to those around them, the place they call home and the issues they encountered.
---
The Nanaimo Design Nerds are actively involved in  promoting creative solutions, ideation, and engagement within the community. Check out our most recent jams on awarewolfcreative.com
---
Other featured jams:
How to Awesome-ize your city! | September 2012 @ The Elephant Room Downtown Nanaimo.
Operation Night Light | November 2013 @ The Elephant Room Downtown Nanaimo
Culture Plan Jam with the City of Nanaimo | January 2013 @ Nanaimo Art Gallery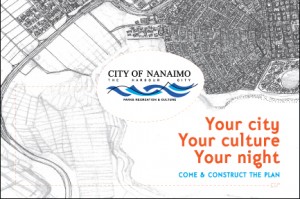 CycleArt Jam/Event | June 2013 @ Muffeao Sutton Park